August 14, 2017
LLWS held the Award Presentation Ceremony for the 3rd "Outstanding Little Life Warriors Award" and the Annual General Meeting (AGM) cum Annual Gathering "Love‧Our Children's Dreams" on 6 August 2017 (Sunday). Many of our long-missed little warriors and their family members were brought together. They got into the world of children's dreams and had a relaxing and wonderful day. LLWS also invited Prof. Sophia Chan Siu-chee, JP, Secretary for Food and Health, to be the award presenter to present awards to this year's Outstanding and Excellent Little Life Warriors. After listening to the sharing from our awardees, our little warriors must have become braver!
LLWS wishes to express its thanks to all of our guests, awardees, little warriors and their family members. LLWS would also like to express its gratitude to different volunteer groups and volunteers for their help and different sponsors for sponsoring us delicate gifts!
Thanks to you all for supporting LLWS and we wish to see you all next year!
The 3rd Outstanding Little Life Warriors and Excellent Little Life Warriors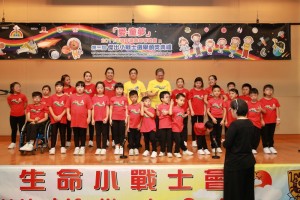 Performance by the LLWS Choir
Drama Performance
Ukulele Performance
Group Photo
Viewers from website: 421 , Viewers from mobile: 0