April 3, 2018
LLWS organised the "Easter Egg Hunting Day" during Easter holiday (31 March).  Around 120 little warriors and their family members attended the event. Honorary guests who attended the event included Dr. Chui Tak Yi, Acting Secretary for Food and Health, Prof. Anthony Wu Ting Yuk, Honorary Patron of LLWS and Dr. Ko Wing Man. Chairman Joey and Jackson from Ferrari Owners' Club of Hong Kong also came to play with our little warriors.
On that day, we arrived at Shek O beach early in the morning to bury Easter eggs. When our guests and little warriors reached the beach, they participated in the hunting activity in groups with our guests. Our guests and little warriors were absorbed in the activity and they totally forgot the burning sun!
After the hunting activity, we arranged a professional team to teach our little warriors to make sandcastles. During the process, our little warriors communicated and cooperated with each other and they finally made distinctive sandcastles of their own. Everyone enjoyed the event!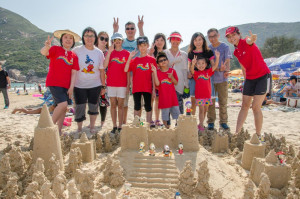 Viewers from website: 414 , Viewers from mobile: 0